FIRDAPSE is the first and only FDA-approved, evidence-based treatment for people diagnosed with Lambert-Eaton myasthenic syndrome (LEMS). FIRDAPSE is clinically proven to maintain muscle strength, mobility, and improve a patient's sense of physical well-being.
How FIRDAPSE works in patients with LEMS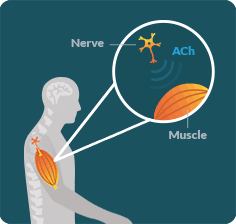 Our muscles rely on a chemical signal from our nerves called acetylcholine (ACh) to move and function properly.
In patients with LEMS, nerves have a reduced ability to release ACh, so the muscles don't receive the signal they need to move and function.
As a result, patients with LEMS are left feeling tired and weak.
FIRDAPSE improves the ability of nerves to communicate with muscles by helping to restore the release of ACh.